Library Resources
Online Journals
BIRS has a subscription to MathSciNet, which you can access by configuring your personal laptop to use the BIRS web proxy server. Basic instructions follow.
Using the BIRS Proxy Server
Open your web browser's Preferences/Settings, locate the "Proxy Server" area (often in a Network or Advanced panel), and enter the following web proxy settings:
Server: proxy.birs.ca
Port: 8080
(no login or password)
Then click the Apply or OK button to activate the changes. Note: this proxy server will only allow connections from the local BIRS network. It will not work from off-campus.
Once you have configured proxy settings click the following link:
If you change the proxy settings on your computer/web browser, don't forget to undo the changes. The BIRS proxy server will not allow connections from outside the Banff Centre.
The BIRS Reading Room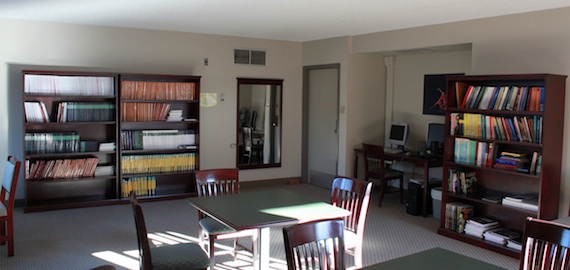 The BIRS Reading Room is on the 3rd floor of Corbett Hall, Room 5310. The code to open the lock on the door is the same as the code to open the BIRS Lounge on the 2nd floor. This code is emailed to participants prior to each workshop (it is changed weekly).
The Reading Room has a small but growing selection of mathematical books, all of them contributed by donation.
Additionally, the room has two computers open for public use (no password required), a network laser printer, a scanner, and a white board.
*We regret that at this time, we are unable to provide access to the library and lounge due to COVID restrictions.
Banff Centre Library
Banff Centre has a unique library on the top floor of the Kinnear Centre, The Paul D. Fleck Library & Archives.
From their website:
The library's mandate is to provide an organization of facilities, access systems and personnel to encourage artists to develop their creative potential and adopt an interdisciplinary approach to the arts. The result is a collection of materials with a focus on the visual and performing arts.